When Buffalo Bills safety Damar Hamlin suffered cardiac arrest at the beginning of a recent NFL game, players took a knee on the field and huddled together to pray for their beloved friend and teammate while medics administered CPR. This emotional moment before a packed stadium and a national TV audience showcased the beautiful freedom we have in America.
Religious freedom doesn't just mean that Americans can worship within the four walls of their churches. The First Amendment ensures that those players—and all Americans—are free to live their beliefs in public, to pray publicly or to refrain from praying without fear of government punishment.
While we celebrate the 237th anniversary of Virginia's Statute for Religious Freedom, which paved the way for our First Amendment freedoms, we bear in mind the words of President Ronald Reagan that freedom "must be fought for and defended constantly by each generation."
Alliance Defending Freedom, like other religious-liberty focused groups such as Becket Fund, First Liberty, Thomas More Law Center, the Jewish Coalition for Religious Liberty, is firmly committed to safeguarding religious freedom for our generation. In the past year at ADF, we saw developments in several lawsuits, amicus efforts, and innovative projects that help ensure the government respects the freedoms of every American.
Below are a few examples that show the importance of taking the fight for religious liberty to the courts.
New Lawsuit: Volunteer Fire Chaplain Fired for His Religious Beliefs
Dr. Andrew Fox loved America's tradition of religious freedom so much that he left Great Britain, his birthplace, to become a U.S. citizen. As an ordained minister, Dr. Fox started a fire chaplaincy program in Austin, Texas and served as the city's lead chaplain—a volunteer position—for eight years.
While first responders were there for everyone in the city, Dr. Fox was there for them, praying with them, and ministering to them and to their families. But recently, Dr. Fox found himself in a battle for the religious freedom he cherishes.
In December of 2021, the City of Austin fired Dr. Fox simply because he shared his religious views on his personal website. City officials demanded that he recant and apologize for the views he expressed about men competing in women's sports, even though he made clear that his intention was to promote discussion, not to cause offense.
It's a violation of religious freedom for the government to force someone to deny their beliefs to keep their job. That's why ADF filed a lawsuit in August 2022 against the City of Austin on behalf of Dr. Fox. Dr. Fox has appeared before several media outlets to speak about why he's taking a stand for everyone's freedom to live and speak their beliefs, including on Tucker Carlson Tonight and Fox's America's Newsroom.
Victory: Lunch Is Back on the Menu at Religious Schools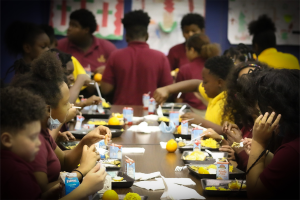 No religious school should have to choose between feeding its students and compromising its core beliefs.
But the school lunch program at Grant Park Christian Academy, a religious school that serves children in a low-income, minority community in Tampa, was put in jeopardy because of their religious beliefs.
Grant Park Christian Academy had participated in the National School Lunch Program for five years so they could serve students a nutritious breakfast, lunch, and snack every day, including during the summer.
Just before the 2022-2023 academic year began, state and government officials threatened to pull the school's funding unless they agreed to comply with the Biden administration's radical expansion of "sex" in Title IX to include sexual orientation and gender identity in all school operations, including restrooms, dress codes, hiring, and pronoun usage.
These requirements go against the core of the religious beliefs that Grant Park Christian Academy is founded on and teaches to its students.
Consequently, ADF filed a lawsuit on behalf of Grant Park Christian Academy against President Biden and Florida Agriculture Commissioner Nikki Fried, to ensure that religious schools receive exemptions from the new Title IX rules.
Within a few days, ADF achieved victory. Our efforts ensured that Grant Park Christian Academy can continue to feed its students, and religious schools nationwide will not face backlash for upholding their faith and values.
Amicus Victory at SCOTUS: Coach Can Pray During Business Hours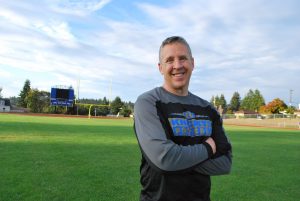 After every game, win or lose, high-school football coach Joe Kennedy would take a knee at the 50-yard line to privately thank God for his players and the opportunity to be involved in their lives.
But when the superintendent learned of this, the Bremerton School District announced a ban on "demonstrative religious activity, readily observable to students and the attending public."
Under this policy, Coach Kennedy was suspended, and other teachers lived in fear of being fired for saying a private, silent prayer before eating lunch in the cafeteria.
First Liberty brought suit on behalf of Coach Kenndy, and ADF attorneys and lead counsel filed an amicus brief with the Supreme Court. The brief came on behalf of former and current National Football League players like Kirk Cousins, Nick Foles, Christian Ponder, and Jack Youngblood in support of Coach Kennedy and a ruling upholding freedom of speech and religion.
In June 2022, the U.S. Supreme Court ruled that "the Free Exercise and Free Speech Clauses of the First Amendment protect expressions like Mr. Kennedy's." This tremendous victory ensures that Americans nationwide are free to exercise their First Amendment rights without fear of unjust government punishment.
New Launch: Promoting Corporate Accountability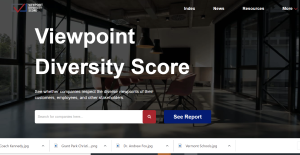 Americans with deeply held religious beliefs like Mr. Fox and Mr. Kennedy for years have faced difficulties in corporate and government workplaces. Their plight, however, doesn't make headlines. We've decided to do something about that, for employees and investors alike.
Businesses can choose to build up or tear down the foundations of our pluralistic society. As corporate environments grow increasingly secular, many of them fail to respect their employees' religious beliefs—or any viewpoint that runs counter to the loudest cultural narrative. There is much work that needs to be done to restore a culture of respect in the workplace.
That is why ADF and Inspire Investing—a Christian financial technology firm informing investment decisions on billions of dollars around the globe—partnered to launch Viewpoint Diversity Score.
The main feature of this endeavor is a Business Index that has evaluated corporate policies of 50 companies—including Amazon, Apple, Twitter, and Visa—to determine whether they respect their    stakeholders' freedom of expression, religion, and belief.
The Business Index aims to be a check against threats to liberty. It also offers companies a roadmap of best practices for cultivating a culture that respects customers and others' freedom of expression and belief, fosters viewpoint diversity in the workplace, and reflects a commitment to the principles of American democracy.
The Viewpoint Diversity Score won The Heritage Foundation's 2022 Innovation Prize for creating innovative solutions to the most pressing issues facing America. Those of us at ADF, like some many similar organizations working to preserve Americans' first freedoms, hope this tool is just the start of more moments in history where a touching moment of solidarity and faith isn't ridiculed or pushed underground but celebrated.
This blog is part of our ongoing grantee spotlight series featuring a nonprofit organization that our community of givers has donated to. It's particularly timely to have a member of Alliance Defending Freedom write for us as National Religious Freedom Day is Jan. 16 and as Alliance Defending Freedom braces for a Supreme Court decision this June in the free-speech case titled 303 Creative v. Elenis.