Thursday, May 28, 2020
On this call, we discussed an expansion of the Growth & Resilience Project as we looked toward litigation efforts. The call explored some of the legal challenges taking place across the country and looked at the different litigation approaches groups are taking. The call featured Tracie Sharp of State Policy Network on the pivotal role of state-based litigation centers, Robert Alt of the Buckeye Institute on the strategy of case selection, Carrie Ann Donnel of American Juris Link on the importance of strategic coordination, David Nammo of Christian Legal Society on the implication of the rise in religious liberty cases, and Steven Anderson of Pacific Legal Foundation on the strategy of regulatory litigation. Listen by clicking here or on the bar below. You can watch the webinar by clicking here.
Note: There were connectivity issues during Tracie Sharp's remarks; she recaps some of her key points in the Q&A.
Thursday, May 14, 2020
This call featured five different groups highlighting a variety of unique plans. We heard about efforts at Georgia Center for Opportunity, Job Creators Network Foundation, Lithuanian Free Market Institute, Pioneer Institute, and Franklin News Foundation. Listen or watch.
Thursday, April 30, 2020
Our third Growth & Resilience Project webinar featured six exciting reports from California Policy Center, Texas Public Policy Foundation, Tax Foundation, Free the People, Beacon Center for Tennessee, and Spanish think tank Fundación para el Avance de la Libertad. Click here to watch or to listen.
Thursday, April 16, 2020
In this second webinar on the Growth & Resilience Project, we heard speakers from the five organizations receiving the first round of grants: Mercatus Center, National Taxpayers Union Foundation, Competitive Enterprise Institute, Center for Indonesian Policy Studies, and Lincoln Network. Click below to watch or listen.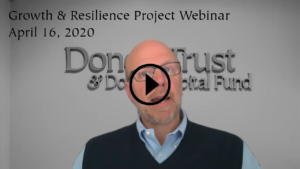 Friday, March 27, 2020
DonorsTrust President Lawson Bader introduced the Growth and Resilience Project in this webinar . The webinar featured non-profit leaders from four groups discussing the types of efforts this project will support. Listen to the audio of the webinar below, or click here to watch a replay.