She believed in limited government, personal responsibility, and free enterprise. These principles, thanks to Whitney, are built into DonorsTrust's DNA.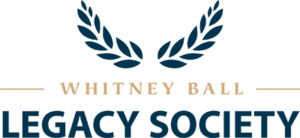 Whitney believed that your charitable legacy is only as strong as those you have entrusted to steward it.
Will they ensure your gifts continue to support the principles and causes you cared deeply about in your lifetime?
You want to ensure that all of your favorite causes receive the support that you intend; without others picking and choosing for you. How can you be sure that your legacy lives on?
DonorsTrust is your principled partner in building your legacy of liberty and ensuring that your legacy is protected. Through the Whitney Ball Legacy Society, you have a reliable, committed partner for carrying out your wishes and making sure that your legacy lives on.
You no doubt have many charities that you support and may already be a member of a number of legacy societies. The Whitney Ball Legacy Society carries out your intention to support charities you value by serving as a charitable hub for all your posthumous giving.
We lost our founder, Whitney Ball in 2015. DonorsTrust was her legacy. Let us help you secure yours in one of the following ways:
Bequest Accounts: Our Whitney Ball Legacy Society offers you the opportunity to designate a donor-advised fund account to be funded at your death. Funded with your bequest, a Legacy Society account at DonorsTrust offers an efficient solution that buys you time, flexibility, and security. Simply designate your fund at DonorsTrust in your will or as a beneficiary of your IRA or life insurance. Separately, complete a Legacy Society application with your donor intent, legacy advisors, and other important information. Your intentions can be changed at any time during your lifetime. Whether you designate a successor to advise the account or simply ask DonorsTrust to steward your plan, DonorsTrust's protective boundaries give you the assurance your charitable capital and donor intent will be honored.
Download Legacy Society Application
Charitable Remainder Trusts: As an IRS approved 501(c)(3) public charity, DonorsTrust may serve as the charitable beneficiary of charitable remainder trusts. If you're considering creating a CRT to reduce your tax burden and provide an income stream for life, you may create a donor-advised account at DonorsTrust to be the beneficiary of your trust. Much like a bequest account, donors can take their time to draw up their list of charities and apportion gifts to each one.
Read more about CRTs and DAFs
Charitable Lead Trusts: A charitable lead trust (CLT) provides an excellent way to reduce your taxable estate, pass assets to your family, and enjoy philanthropy during your lifetime. Unlike a CRT, the CLT provides the benefiting charity to receive an income stream for a specified term of years. At the end of the term, the remainder is transferred to the trust's designated beneficiaries (for example, your children or grandchildren).  You may also designate DonorsTrust as the charitable beneficiary and create a donor-advised account.
Read more about CLTs and DAFs
Setting up a legacy plan doesn't have to be difficult or costly. Set a legacy account with DonorsTrust today at no cost. You can change your intent plans as often as you like without costly legal fees.
We at DonorsTrust share your principles. Build your Legacy of Liberty today by visiting our specialized legacy planning site here or email DonorsTrust's planned giving advisor, Stephanie Lips at slips@donorstrust.org.
Start Protecting Your Intent Today.
To learn more about how a donor-advised account can help you protect your donor intent, click below to download your copy of 8 Steps to Securing Your Donor Intent. This step-by-step guide offers practical steps you can do starting today to ensure the principles you hold dear get advanced through your charitable giving, both now and in the future.